Get 30+ hr of DaVinci Resolve courses & 400+ pre-made assets
As little as $15/month for all courses and pre-made assets
Make sure to backup your database!
Download DaVinci Resolve 18 Here
The list of new things in DaVinci Resolve 18 is very extensive but here is a short list of some of my favorites.
Blackmagic Cloud
DaVinci Resolve 18 supports Blackmagic Cloud, so you can host your project libraries on the DaVinci Resolve Project Server in the cloud. Share projects and work collaboratively with editors, colorists, VFX artists and audio engineers on the same project at the same time, anywhere in the world!
Blackmagic Proxy Generator
The new Blackmagic Proxy Generator App automatically creates and manages proxies from camera originals. Create a watch folder and new media is automatically converted into H.264, H.265 or ProRes proxies to accelerate editing workflows. You can extract proxies into a separate folder for offline work!
Intuitive Object Mask
Located in the magic mask palette, the new object mask is able to recognize and track the movement of thousands of unique objects. The DaVinci Neural Engine intuitively isolates animals, vehicles, people and food, plus countless other elements for advanced secondary grading and effects application.
Automatic Depth Map
The new depth map effect lets you instantly generate a 3D depth matte of a scene to quickly grade the foreground separately from the background, and vice versa. You can bring attention to action in the foreground, help interview subjects stand out, or add atmosphere in the background of a scene!
GPU Accelerated Paint Node in Fusion
In DaVinci Resolve 18, GPU acceleration allows paint brush strokes to be generated and displayed in real time, for a more intuitive approach when performing cover up work or graphic design. Instant visual feedback allows you to assess your work and make corrections in any stroke style or shape.
Text and Shape Acceleration
Text, text+ and shape templates have improved speed and playback performance in DaVinci Resolve 18. New memory management and data handling means that Fusion templates are up to 200% faster. You can see accelerated results in the viewer and put together motion graphic compositions faster than ever!
Convert Legacy Projects to FlexBus
FlexBus is Fairlight's flexible audio busing and routing system designed for managing high track counts, extensive plug-in processing, perfect synchronization and multiple project deliverables. Now you can effortlessly convert legacy fixed bus Fairlight projects to FlexBus with a single click.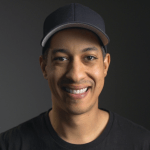 About the Author
Justin Robinson is a Certified DaVinci Resolve, Fusion & Fairlight instructor who is known for simplifying concepts and techniques for anyone looking to learn any aspect of the video post-production workflow. Justin is the founder of JayAreTV, a training and premade asset website offering affordable and accessible video post-production education. You can follow Justin on Twitter at @JayAreTV YouTube at JayAreTV or Facebook at MrJayAreTV
Get 30+ hr of DaVinci Resolve courses & 400+ pre-made assets
As little as $15/month for all courses and pre-made assets