Get 30+ hr of DaVinci Resolve courses & 400+ pre-made assets
As little as $15/month for all courses and pre-made assets
The new magic mask takes the power of a GPU and makes masking super simple. If I'm not mistaken everything that uses DaVinci Resolve neural engine is a part of the studio version so I thought I should just let you know that, but this tool is amazing in how quick and easy it is to get a usable mask.
As seen in this video the simplicity of drawing a line on your subject and then giving it a classification of what to look for ie (arm, leg, head) Automatically create and track a mask throughout the duration of the whole clip.
Because this is a mask, all the normal mask settings also apply to this mask.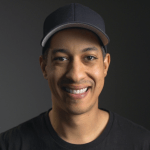 About the Author
Justin Robinson is a Certified DaVinci Resolve, Fusion & Fairlight instructor who is known for simplifying concepts and techniques for anyone looking to learn any aspect of the video post-production workflow. Justin is the founder of JayAreTV, a training and premade asset website offering affordable and accessible video post-production education. You can follow Justin on Twitter at @JayAreTV YouTube at JayAreTV or Facebook at MrJayAreTV
Get 30+ hr of DaVinci Resolve courses & 400+ pre-made assets
As little as $15/month for all courses and pre-made assets